Pressure Point Self Defence Seminar




Sunday 3rd Dec. 2017 - Bognor Regis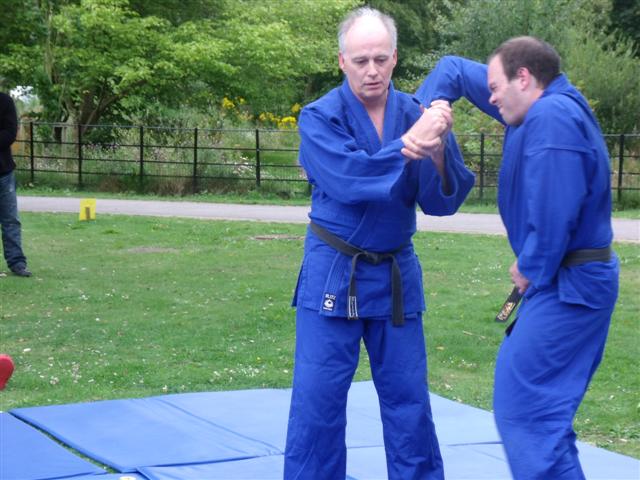 Learn How to Protect Yourself - including... correct mindset, deal with verbal conflict, protect your space, trigger points, when to take action, 6 key moves to take control fast, double your power, use attackers strength against them, most effective pressure points, etc. -  Click Here for Full Details!

The following Aikido Demo Pictures were taken in August 2011.
Samuel Wilden and Aruna Gibson practising sokumen iriminage.

Taken in Hotham park, Bognor Regis UK 2011
Sensei Tony Wilden demonstrates kokyu ho with Christopher Bradbury.
Sensei Natasha Wilden enjoys practising kokyu ho with her son Samuel.
More kokyu ho practice as Aruna Gibson throws Christopher Bradbury.
Sensei Robin Wilden demonstrates balance breaking on his father.
Sensei Tony Wilden applies sokumen iriminage from a chest grab on Sensei Robin.
Sensei Robin applies ikkajo elbow control on Sensei Tony.
Sensei Tony and Sensei Robin demonstrating zanshin (awareness).
Arion Gadd applies shihonage on Sensei Robin.
Sensei Robin applies shihonage on Arion Gadd.
Sensei Tony demonstrates the importance of zanshin with a deep posture to make the techniques more powerful and effective.
Sensei Tony demonstrates tenchinage (heaven and earth) throw on Sensei Robin.
Arion Gadd practising tenchinage with Sensei Natasha.
Sensei Tony and Sensei Robin demonstrate safe and correct distance.
Sensei Natasha is about to throw her father Tony backwards.
Samuel Wilden practises tenchinage to unbalance Sensei Robin.
Sensei Tony demonstrates the importance of moving in deeply to take control and unbalance Sensei Robin.
Sensei Tony demonstrates applied ikkajo to turn Sensei Robin around and off-balance.
Sensei Robin showing correct posture as he performs ikkajo on Sensei Natasha.
Sensei Natasha shows how effective shihonage can be to control Sensei Robin.
Christopher Bradbury practises shihonage on his brother Robert Bradbury.
Sensei Tony launches Sensei Robin as the crowds gather in Hotham Park, Bognor Regis, West Sussex UK.
Sensei Natasha has just thrown Sensei Tony. This one was funny as the mat flew up at the shocked juniors :)
Sensei Robin demonstrates how to block a yokomen strike from Sensei Natasha.
Sensei Tony demonstrates how effective sankajo can be on Sensei Robin. Notice Robin's face :)
Left to right... Sensei's Robin, Tony, Natasha.

Front... Aruna Gibson, Samuel Wilden, Robert Bradbury & Christopher Bradbury.