Amazing FREE Magnibar Software Developed By an


Ex-NASA Space Engineer!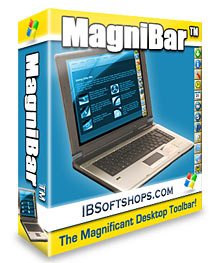 Free Software helps improve your Windows navigation with a versatile desktop toolbar. The main function is to organize your desktop and get rid of the clutter.


MagniBar The 'Software-Loaded' ToolBar to... 
simplify, enhance, and organize Your PC.
Free Magnibar - Incredible Features
Over a Dozen Products In One!
The following amazing products were embedded and fused into the MagniBar™ code to make ONE Magnificent free software product!


   
DeskTop Organizer / Cleanup


ONE of MagniBar™'s functions is to UNCLUTTER and ORGANIZE your Desktop. There are too many icons there. The system actually 'pauses' each time it has to redraw all those icons on the screen, and they occupy memory. They clutter...


But NOT the ToolBar...
You can take ANY program icon on your desktop, 'drag' it over to the bar, and Presto! it becomes a button on the bar and stops cluttering your desktop, if you choose to delete the icon! (MagniBar™ will restore any icon later if you want)
 

MagniBar™ TickerTapes!


(It's actually scrolling across the screen. ;->) With a button Click, get A RSS-style (without the risks and uncontrolled content!) 'Live' feed of simple text messages - News, Updates, Freebies, Discounts, WHATEVER! - scrolls across a thin 'tape' across the top of your screen in the background.


Clicking a message pops a browser window and takes you to the web page for that message! Click [X] to turn the Tape off completely.


You can change the Source web site for the TickerTape that displays when the TickerTape button is Clicked. Check as many tapes for as many sites as you like.


It is an amazing - and safe! - way to stay in touch with any website, Vendor, or Group. One Click, and You get the Latest messages from them.


Other 'feeds' ram any content they like into your PC and forces your PC to accept it. You PC has to 'leave a door' open for such 'feeds'.


TickerTape is Passive and under YOUR control. Your PC goes out LIVE, when YOU choose, and checks the TickerTape you chose to run, and brings a copy back to your PC for you and runs it.


Only 'tapes' created with our MagniBar™ Brander - special text-only files - will load. No uncontrolled content. No risks. Fast, simple, easy.
 

WebAlert (WebListen)


Your Free Magnibar Software spends a lot of time looking at the web for you. ONCE AN HOUR, it will check the web sites listed in YOUR ALERT list, to see if...


The page/site is down or up, and If the page has changed (updated, added to, or even new) since last time you looked at it.


If it finds that the web page has changed, or finds that it is down (and the user asked to be told) it pops an alert. You can IGNORE it (for the rest of the session), Cancel the Popup, Or view the page.


Creating your Alert List is Fast and Simple. Just type them in, or a built-in browser makes it easy for you to browse to and add (with a click) web pages or sites to your 'alert list'. Alert will check them all!


Since You are checking the Alert Page automatically, you are not being 'sent' anything and your PC is in no danger. It's not being force 'fed' God knows what content. It's YOUR list - spyware and adware free!
 

Idea Trakker


Save, Organize and Track your Ideas - even include a Picture! Software ideas. Web page ideas. Product ideas. Even gift ideas.


A tool for you to record, track, organize, save ideas - even draw or markup a picture of the idea - in SECONDS - as they occur to you.


One Click on the toolbar, and you can write the idea down, free form. Even create a drawing of it, or load an image - like a picture of a web site or software - and mark that up with your 'changes'.


Another click, and it's all saved for you. The ideas are sorted and listed in a useful 'treeview', even includes a search facility to search ALL your ideas by a word or phrase! And of course, you can print out the ideas.
 

IPMe


EVERY Internet ISP uses blacklists to block/delete email and access...

...That there are over 600 companies providing these blacklists?


...That blacklists do NOT list domain names, but ONLY use IP addresses?


(The Internet runs on numbers, the names are provided for humans!)


The Free Magnibar Software will tell you, every time you are connected to the Internet, what public IP address your ISP assigned you and your email AND if that IP address has been blacklisted.


It will also find the IP for any domain name, and tell you if THAT is blacklisted... You'll be amazed at this free software.
 

QuikNotes (BizQuicker)


If you get thousands of emails a week. Most of the questions asked, are the same. Over and over. You can 'store' your responses inside QuikNotes in a nice, easy to follow tree list (by category and name).


Just by clicking on the name of a note item, the contents of that 'note' are AUTOMATICALLY copied to the clipboard, so ALL you have to do is hit 'reply' and 'paste', and your reply to the email is done.


It can also be used for forms, newsgroups, forums, etc. AND, QuikNotes has a Second purpose: to Store Thousands of bits of info in ONE place!


From passwords, to download links, to a food menu. It's all secure in the database. Double-click an item, and the contents are displayed (and can be printed). BizQuicker saved you THOUSANDS of man-hours of work. Now MagniBar™ QuikNotes can do the same for you!


CalDo - Calendar-based Visual ToDo List Organizer


INCREDIBLE built-in Visual Calendar, 'ToDo' list manager, that manages by Day, or by Entire Month, anything you need to remember to do.


One 'Click'... to get details... to add an item... everything is a button click! Everyday, when you start your PC, it checks to see if you have 'things to do' and reminds you, via a Popup, automatically!


It is quick, easy, simple. Takes about 5 seconds to add an item. If there is a website involved, just clicking it in the note pops the web page in your favorite browser.


Click their email address (if the note has one) and it opens a blank email set to send to them! Can list an entire month, or everything for a day.


ONE CLICK on any day of the month, and everything for that day is listed. Another Click - every item for every day in the month is listed.
 

Great Googlier Web Searcher


If you use Google it has 2 problems, by default, it only lists 10 results per screen. AND... if you click a link, the web page is displayed IN the browser, so you lose your Google results!

The Free Magnibar Software solves those problems. And does better searches!


It uses an advanced algorithm, displays 100 results per screen in a special browser. Clicking a result link opens that page in your web browser! Yet Clicking a link, for something like the next 100 results, stays in your search browser.


Saves you untold hours (and frustration) when searching the net.
 

ScreenSnapper


Click the button, and use the mouse to surround and CAPTURE any portion of the PC screen as an image file! Super simple. It does not matter what is on the screen - web sites, pictures, software windows, anything. 

You can save the captured image to a file, resize the image, You can EDIT the picture, ADD arrows, lines, shapes, text, and more. Even save it to the clipboard. Why pay for a 'screen capture' utility? MagniBar™ has one!
 

WebLinker and Organizer


Import any or all of your Internet Explorer favorites and make it easier to do more web work in less time with less frustration. REMOVES the shortcomings of IE favorites or bookmarks.


If you have a LOT of WebLinks, but use more than one browser. (IE, FireFox, Opera and Netscape). Keeping the links straight is a PAIN. And, when you use one link, the browser closes your list and takes you there.


If you want a central organizer - like QuikNotes - but for all your web links, that contains more information in the link, is easier to find/use. Basically has all the power of QuikNotes. It also makes browsing and multi-tasking easier.


Every link opens in a new window, so you can manage many sites or activities at the same time, with ease. You never have to leave what you are doing in the browser, to go to another site!


Easier and faster than 'bookmarks,' no matter which, or how many web browsers you use - click and go! And it does NOT take up display space in the browser.
 

PC Hunters


Remembering where things are on your PC is a pain. And the Windows search utility sucks. It is a pain to use.


3 years ago, 'The Wizard' developed a VERY popular utility called 'AlphaCuts' that would find, simultaneously, all the documents on your PC ( such as all txt, rtf, doc, xls, htm, html AT THE SAME TIME!) and list them, from text files to Docs. He embedded that code into MagniBar and called it Doc Hunter.


Then he created 2 more: one to search for all types of Audio AT THE SAME TIME, and another to search for all types of Video/Pictures AT THE SAME TIME. The lists created from a Hunter search can be saved, and is Automatically reloaded when you open the hunter again.


AND you can search the list itself with the 'Find' button, which will search the Hunter List file names AND file contents for the word or phrase you are looking for. Another HUGE time-saver in this free software!
 

Password Locker


Remembering the user ID's and passwords for all the sites and accounts you have is a nightmare... until Now. :-)


Now you can have them all organized and protected in a 128key encrypted vault, along with the user id, the site Link, a name... You can even use the Locker to visit the site! Click a button and the URL Link for the site that uses the password opens in your 'normal' web browser.


Then you just type in the user id and password you have listed... Piece of cake. And a single, easy to remember Master password allows you to access, add or change your passwords. Password Locker Adds Sanity and SPEED To your Life!
 

QuickMenu

 
The Free Magnibar Software Quick menu adds even more Products inside, a Word Speller and Thesaurus are just a click away! Something every version of windows seemed to be missing: an ALARM CLOCK!


It is easy to set, will play sounds or music for each alarm you set. You can have multiple alarms. It also Pops a message when the alarm goes off that says whatever you want the message to say.


System Snapshot


The systemSnap product allows you to provide any 'tech' trying to help you fight a problem all the information they will need to figure it out, and it will email it all to them automatically.


Even More Software


Do a WHOIS lookup - including the IP assigned - for any web site domain name. Change the TickerTape you want to watch - or ADD one. A Spam washer for your email (Pop3washer)


MagniBar™ is CERTIFIED virus/spyware/adware Free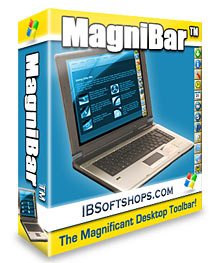 Click to Download Your FREE Magnibar Software Product Now!