Arun Aikido Club Demonstration at the


Hotham Park Country Fair, Bognor Regis UK




Saturday 5th & Sunday 6th August 2017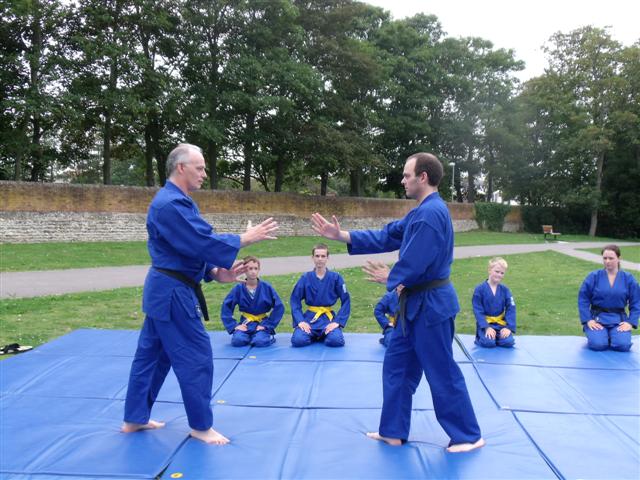 The Arun Aikido Club will be presenting the martial art of aikido to the general public on Saturday 5th and Sunday 6th August at the Hotham Park Country Fair in Bognor Regis, West Sussex UK. We will have a stall and gazebo both days between 11am-5pm where you can come and chat with us and learn some of the key aspects of this beautiful art.
On the Sunday our instructors and students will give a unique aikido demonstration near the bandstand at 11am-12noon... come and watch this amazing art in action!

Deep Breathing
by John
(Aruba)
I wanted to make a comment on deep breathing. Recently I have been searching the web about persistent high blood pressure, despite taking drugs and following healthy plant based nutrition.

I was suspecting that it could have to do with breathing. The heart should also get it's oxygen through breathing.

I stumbled on some interesting web sites, writing about a Russian doctor called Konstantin Buteyko. He studied breathing and he came to the conclusion that what we have been doing and recommending as deep breathing is not the right way.

He says that breathing should be slow and imperceptible. That we should strive to breathe less and shallower, instead of more and deep. On the other hand we should also strive to control our breath by being able to hold the breath after expiration, in order to avoid too much CO2 to escape.

Besides my blood pressure problems, I also used to snore. It seems that there is one little thing we could do to minimize or stop snoring. don't lie on your back while sleeping and keeping your mouth shut.

There are a number of websites, dedicated to the Buteyko method, one of which is buteyko.co.uk

I have tried some tips and exercises and I can say that I am not snoring anymore. (According to those who watch me sleep, because I am not bothered by my own snoring).

It seems that the real yoga masters don't teach deep breathing either. They also teach breath control and shallow imperceptible breathing, at least at rest.