Jul 12, 2014
"Harmony of Mind-Body-Spirit Our Free Monthly Newsletter Has Been Sent!"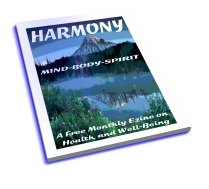 I've just sent out our latest free monthly Harmony newsletter. The July issue offers you great information on some of the most powerful paths to...
make positive changes in your life.
If you want to change, but haven't got your blueprint of action steps, then you need to read this. It covers how to set up your targets and take massive action towards your goals.
Ready... Aim... Fire!
Plus how to stay on track until...
YOU Achieve Results!
You can subscribe to this unique monthly newsletter, absolutely free. You'll also get access to 135+ back issues packed with very useful tips on aikido, health, alternative health, well-being, spirituality etc.
Sign Up Now and grab your free gifts... Harmony Ezine
Warmest Regards

Tony Wilden
Aikido Health Centre
P.S. Bookmark this page to your favourites, and return here often for a wide range of fascinating posts... have a great day!