Arun Aikido Club Offers
You a Truly Unique

Aikido Training Grant Scheme!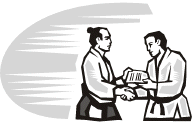 Our Aikido training Grant is the Arun Aikido Club's way of helping potential students who just cannot afford our regular aikido training fees.
This unique service is only available when we have sufficient funds. Our first grant was offered in 2011, and we are considering offering another one in 2020.
Our first aikido training grant was provided by a generous family sponsor, and our next one may be available very soon, depending on club funds... 
Of course :)
It's an amazing opportunity for a keen student who is willing to show their commitment, to get their classes at greatly reduced costs. 
Please bear in mind that this offer is only available for students who show that they are willing to train hard and commit long-term to their aikido study.
It is like an apprenticeship that could eventually lead to an aikido black belt, and the potential to also go on to become an instructor of the art.

How does it actually work?
1 - come and meet us on a Thursday, and take your 1st class free!

2 - take part in 3 more classes to ensure that you like what we offer, and that you want to make a long-term commitment to your aikido training.
3 - then you need to apply for our aikido training grant.

4 - Arun Aikido Club instructors will then review your application and, if suitable, will make you a truly amazing offer of reduced monthly training fees.

5 - you then take out Arun Aikido Club membership and get a free uniform!

6 - we will then set up a direct debit for the reduced monthly fee to be taken from your bank account automatically on the 1st of each month.

Are YOU interested?
Maybe you would like to become a grant sponsor?

The recipients must be able to demonstrate that they are unable to afford the usual club fees, and also show a commitment to the study of aikido.


This offers a unique opportunity for people who are prepared to get involved in serious training. It is not available to people who want to drop in now & then!


You are welcome to come along and take your 1st class free, and tell us all about your intention to apply for our unique aikido training grant scheme.
Aikido Training Grant


Want local training in Bognor Regis UK? Visit... Arun Aikido Club