Eckhart Tolle 
The Power of Now!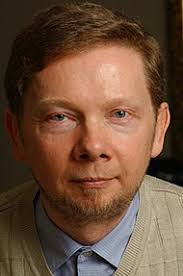 Eckhart Tolle is a spiritual teacher and author, who was born in Germany and educated at London and Cambridge universities.
At 29 he had an enlightening inner transformation, which suddenly changed the course of his life. He devoted years to understanding this experience. 
His bestselling books, The Power of Now and A New Earth have been translated into 50+ languages. He taught millions of people to live in the present moment, and described as 'the most spiritually influential person in the world.'
Eckhart Tolle offers simple, but very deep teachings, that help people find inner peace and fulfillment in their lives. The teaching offers awakening from an ego-based state of consciousness, which leads to real happiness.
Eckhart Tolle - Hidden Harmony Beyond Order and Chaos
Eckhart Tolle 
Spiritual Teacher

Eckhart Tolle started a company to sell his products about his teachings. He then designed a website called Eckhart Tolle TV, which included video streaming of his monthly group meditations and other videos.
He offers speeches, workshops, and retreats all over the world. He also travels for various speaking engagements, such as seminars and retreats. He stated that he had no intention of setting up an ashram or centre. 
In September 2009, he appeared with the Dalai Lama and others at the Vancouver Peace Summit. Also in 2009 he published Guardians of Being, a picture book illustrated by Patrick McDonnell.
In 2017 Eckhart Tolle was interviewed about art and spirit by British contemporary artist Alexander de Cadenet. In 2018 Watkins Mind Body Spirit magazine produced the first ever publications of Tolle's nature photography.
I have read both The Power of Now and A New Earth.
Once you begin reading these books, it is very difficult to put them down. They are compelling and reveal a new way of being in this world. 
Is it Possible to...
BE in the Present Moment?
Yes, by breathing deeply, completely relaxing, letting go of mind chatter and allowing your consciousness to just be here now. When anything arises in your thoughts, you say to yourself 'there it is' and then just let it go.
By continuing this exercise you will be able to experience freedom and love.
I highly recommend that you watch Eckhart Tolle video presentations, buy his books and immerse yourself in his teachings... its very rewarding!
Eckhart Tolle - There Is Another Way