Learn verbal skills, protect your space, trigger points - when to take action, what action to take, easy-to-apply simple moves, develop massive power, very effective pressure points. Proven tips... That Work. Only
15
9 places left
, so
Book and Confirm Your Place Now
to avoid disappointment.



"Unique Aikido Courses, Seminars and Private Lessons!"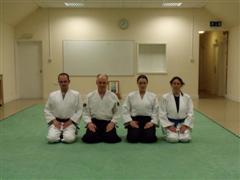 The Arun Aikido Club offer you Aikido courses, classes, seminars, and private lessons. Here's your opportunity to learn the art of Aikido and self defence in a completely unique way.

These lessons can be tailor made for your individual needs. Offering you several  great ways to fast-track your skills to a whole new level. They are available on the south coast, in Bognor Regis, West Sussex UK.
What type of training would you like?
1 - Junior or adult Aikido Classes that are held on Thursdays every week.

2 - Private Lessons available on Sunday evenings.
3 - Self Defence Seminars held on sunday evenings a few times a year.

Subjects covered include...
aikido, aiki principles, self defence, pressure points, power development, gradings, certificates, fun, discipline, body conditioning, awareness, distracting atemi strikes, balance taking, control or throw.
Also... meditation, contemplation, ki breathing, relaxation, partner work, harmonising exercises and tibetan yoga to balance and revitalize your energy centres (chakras)...
Its All Here!

You can even book us to visit your venue for a whole variety of courses, seminars, private lessons, lectures, demonstrations, etc.
They can all be tailor made for your exact needs.
The Arun Aikido Club have been offering unique classes since 1992. Sensei Tony J. Wilden is a 5th Dan and the founder and chief instructor. His son Robin and daughter Natasha are also instructors, who run the junior and adult classes for the Arun Aikido Club

Tony's wife Josephine and grandson Samuel are students too. This is why we can offer you a real family atmosphere :) We are friendly and you are most welcome to come along and watch a class, ask us any questions you may have, or even join in... your 1st class is absolutely free!
What Aikido Courses, Classes, Self Defence Seminars, or Private Lessons Interest You?
So, tell us exactly what you want?
 Aikido Courses & Classes - Self Defence Seminars - Private Lessons
Can't make it to Bognor Regis, West Sussex UK?
No problem, we can travel, or you can learn from Sensei Tony's experience in his...
Aikido Success Blueprint ebook and video collection. You can Fast-Track Your Aiki skills to peak performance levels with this massive collection of knowledge and wisdom.

Tony's Aikido First Aid Kit ebook teaches you how to prevent and treat Aikido injuries. It gives you the tools you need to help you stay on the fast track to Aikido mastery. PLUS 4 other FREE BONUS ebooks.
Do YOU want to quickly learn how to protect yourself?
You may find my Self Defence Secrets ebook and video course helpful. It covers essential tips and strategies to prepare yourself fast. You will...

double your striking power in 3 hours

 learn the #1 most effective move


 how to protect your personal space




 exactly when to take action to win

 deal with fear and turn it back on attacker

 correct angle to hit pressure points for best results!

 6 ebooks plus 1 hour video

...

Full Details Here!