Arun Aikido Club



Testimonials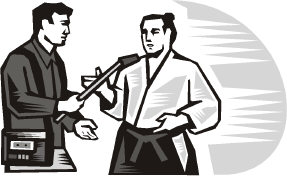 Here are a selection of Arun Aikido Club testimonials that we have received from students at our classes, seminars and private lessons.
For full details about the unique training that we offer in Bognor Regis, West Sussex UK, please visit the... Arun Aikido Club
" Hi Tony Thank you for hosting the Aiki Peace week session. It was a terrific evening. We all really enjoyed it. It was great to try the new warm up exercises. Look forward to the next one! All the best Piers Cooke"

Sensei Piers Cooke 7th Dan
Coldharbour Aikido Club
Dorking, Surrey UK
"We looked at breaking our training partners balance. It helped me understand why and how they are affected, the best place to be to avoid further attacks, and allow me to control someone bigger with technique. I love training and teaching at the Arun Aikido Club because of the family atmosphere, and recommend it "

Sensei Robin Wilden 3rd Dan
Bognor Regis, West Sussex UK

" I enjoy the wrist and arm locks, they are very helpful, and could be used in sticky situations, if practiced enough. The rolls and stretches help to keep me supple and strong. I like the Arun Aikido Club, its small and friendly with very experienced instructors "

Grahame Hurren
Bognor Regis, West Sussex UK

" When I visited the Arun Aikido Club with my daughters, they were welcomed to try a class. The structure of the class is quite formal, but the instructors were friendly and patient explaining all the moves, especially to the youngest, and they got on really well. They have improved so much already. The children's class is friendly and well organised and all levels work together. It has improved their confidence, as well as their coordination and control of themselves "

Rachel Wheeler
Bognor Regis, West Sussex UK

" Dear Sensei Tony just a quick note to thank you and Sensei Piers for your hospitality and excellent training evening to celebrate International Aiki Peace Week: I enjoyed myself enormously and learned a lot "
Mike Lewis
East Grinstead, Sussex UK


Arun Aikido Club
Testimonials
We hope you got benefit from our Arun Aikido Club Testimonials, and... 
You are welcome to join us your 1st class is free! You'll soon be writing one of your own Arun Aikido Club testimonials :) For full details visit... Arun Aikido Club