We Spotlight Aikido
Master Robert Nadeau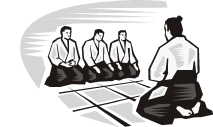 Robert Nadeau personally studied with Morihei Ueshiba - the founder Aikido. He's a key figure in the growth of Aikido in the USA.


He started his martial arts training in the 1950's, studying Judo, Karate, and defensive tactics as a police officer in California, and in the US Marine Corps. He also studied yoga and bodybuilding.


He began studying Aikido in San Francisco with Bob Tan around 1960, a practice that related mind and body in a way not found in other arts.
 

One of Robert's family met a fantastic psychic, so he went to see this lady, and they got on really well. She said without any prompting...


" You're going to the Orient to meet a
little old man with a white beard who is
very powerful. He's going to teach you many things "
In 1962 he left police work and moved to Japan to study with Morihei Ueshiba. He once asked O-Sensei a philosophical question, which he must have liked, because he... invited him to come and talk any time.
During his years in Japan he received personal instruction from the founder in the spiritual, philosophical and energy aspects of Aikido.


While at Hombu Dojo he trained with all of the teachers and many students including O-Sensei and...
Sensei's... Ueshiba, Yamaguchi, Arikawa, Osawa, Tohei, Tada, Yamada, Kurita, Sugano, Kanai, Saotome, Chiba, Ichihashi, Tamura, Sasaki, Saito etc.


Robert Nadeau took private lessons from Koichi Tohei that would turn into small group classes with Seiichi Sugano and Frank Doran joining in.

He also spent some time with Donn Draeger, Terry Dobson, and a famous tai chi teacher named Wang Shu-Chin.


Morihei Ueshiba developed Aikido from his combat studies of Daito-ryu Aiki jujutsu with Sokaku Takeda, and his spiritual studies with Onisaburi Deguchi.
Aikido focuses on harmony and non-resistance, leading to Success

Master
Robert Nadeau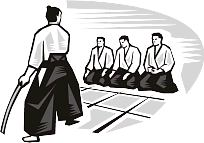 Robert Nadeau returned to America in 1964 to teach in Mountain View, California, and also founded schools in San Francisco and San Jose.
He made return trips to Japan in 1966 and 1967, and a planned a trip in 1969 was cancelled when O'Sensei died.


In the 1970's his work brought Aikido concepts into the fields of psychology, bodywork, business, sports, art and many other areas.


Included numerous seminars at the Esalen Institute and other personal growth centers across the country and abroad.
His work is featured in 12+ books by well-known authors including... Michael Murphy (founder of Esalen), George Leonard and Dan Millman.


On a trip to Hombu dojo in 1998, Robert Nadeau was recognized by Kisshomaru Ueshiba, for his contribution to the spiritual focus of Aikido.


He has trained or influenced several generations of Aikido teachers in America, Europe, Russia, Israel and New Zealand. His approach to training transcends technique which gives students useful tools to aid in self-transformation.
He is particularly interested in the spiritual aspects of the art, using Aikido as a...
process of expanding consciousness.


Robert Nadeau Shihan co-founded the Aikido Association of Northern California (AANC) and the California Aikido Association (CAA), which is affiliated with the Hombu Dojo, World Aikido Headquarters, Tokyo.


He is currently ranked 7th dan and was awarded the title of Shihan by Moriteru Ueshiba, Grandson of the Founder. He teaches at City Aikido of San Francisco, Aikido of Mountain View and Aikido of San Jose, andaround the world. More