Master Russell Stutely is a True
Pressure Point Fighting Expert!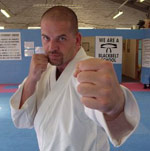 Russell Stutely is one of the most unique and forward thinking instructors. He has pushed the boundaries and helps you learn at a rate never thought possible.


Russell does not believe in, or teach the usual pressure point nonsense that you may have seen on the web. Videos where students fall over at a no touch kiai shout or a so-called 'Masters' own students... falling too easily for them!


You can make something work, or you can't, and Master Russell Stutely CAN  help YOU to make Pressure Points work in your training... pure and simple!


How do I know that his stuff really works?


Because I have felt it!


In 2010, I was one of 7 people taking intense training on his Pressure Point Instructor Course. We had many very tough training days, and homework which included intense study and... 1000's of reps a day for several months. 

After writing a 10,000 word lesson plan and sending Russell a detailed video, I finally passed and became a fully qualified... Pressure Point Instructor!  


It has already boosted my Aikido skills to a whole new level, and I am introducing it into my Aikido coaching with great results!


Russell uses pressure points, waveform power, balance points, BAR, and dozens of superb technique enhancers to cause exteme pain and submission without injury. He uses just a small amount of his potential to easily make his... 
Techniques Highly Effective!

He is one of the best instructors I have had the pleasure of working with. He has the rare ability to teach very complex information in an easy to understand way.  


Here's Your Opportunity to get some of Russell Stutely's insider secrets in my  Pressure Point Self Defence Seminars which are held in Bognor Regis UK.
Can't travel that far? Then check out my... Self Defence Secrets
Or you can Grab Russell's Complete System... Highly recommended!

Russell Stutely Shows You
How to Develop Effective
Self Defence Skills... FAST!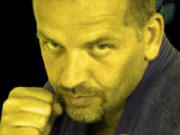 Russell Stutely is founder and chief instructor of the OCFM (Open Circle Fighting Method). He holds a 6th dan in Karate Jutsu, and other dan grades.
He is a senior coach with the BCA (British Combat Association) run by Peter Consterdine and Geoff Thompson.


He has been on the front cover of the UK's largest and most prestigious martial arts magazine... Martial Arts Illustrated (MAI), 4 times in one year, and been a regular columnist for MAI, Combat, Traditional Karate and other Magazines.


Russell has produced over 40 instructional Dvd's and his ability to teach this information in a clear, concise and easy to understand way, is what makes him...
Stand Out From The Rest!


He teaches massive power generation, self defense, effective pressure points, etc. and has made it his mission to ensure that everything he teaches is... easy to learn, easy to copy, easy to teach, and is very effective.


I highly recommend that you get your hands on his unique dvds, if you want to add real effectiveness to your Aikido or martial arts techniques. Yes they are a little expensive but very good value considering the excellent content!

I pass on many of these skills in my unique Self Defence Seminars, which are held a few times each year in Bognor Regis, West Sussex UK.
YOU can Grab Russell's Complete System... Highly recommended!
I have made an intense study of Aikido for 30+ years.
I have also looked at the principles, that run through defence systems. I had many insights, which led me to write these ebooks...
Aikido Success Blueprint, Optimum Health Secrets, Self Defence Secrets
Want local training in Bognor Regis UK? Visit... Arun Aikido Club