Arun Aikido Club Demonstration at the


Hotham Park Country Fair, Bognor Regis UK




Saturday 5th & Sunday 6th August 2017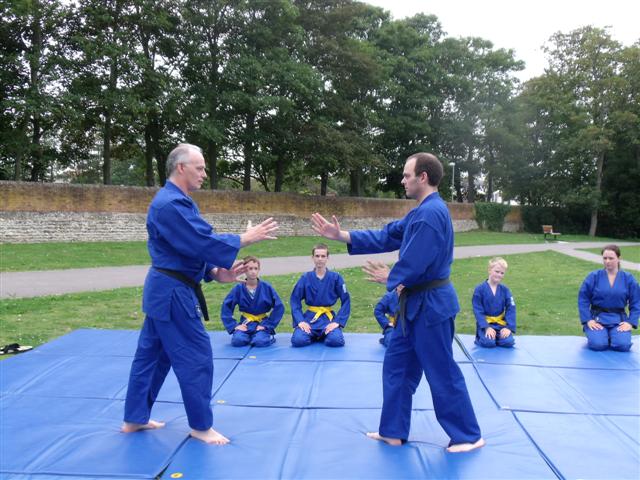 The Arun Aikido Club will be presenting the martial art of aikido to the general public on Saturday 5th and Sunday 6th August at the Hotham Park Country Fair in Bognor Regis, West Sussex UK. We will have a stall and gazebo both days between 11am-5pm where you can come and chat with us and learn some of the key aspects of this beautiful art.
On the Sunday our instructors and students will give a unique aikido demonstration near the bandstand at 11am-12noon... come and watch this amazing art in action!

The Wilden's - Left to right... Tony, Jo, Samuel, Natasha, Robin, and at the front Holly.

Taken on a rare sunny day in Bognor Regis UK
This is me early in 2010 during my preparations for the re-opening the Arun Aikido Club, after a 3 year break.
Robin, Josephine, Natasha and Samuel (front) at our new dojo in Bognor Regis, West Sussex UK.
Samuel throws Natasha and Tony at the same time.
Robin, Jo, Natasha and Samuel smiling... rare ;)
Jo, Robin, Tony, Natasha and Samuel. Taken before our new mats arrived.
These mats are thin (ouch!)
Arun Aikido Club juniors... Robert, Aruna, Sensei Natasha, Samuel, and Christopher.
Our juniors kneeling on our new mats. The background picture is of Morihei Ueshiba O'Sensei - the founder of Aikido.
Sensei Natasha, Christopher, and Aruna.
Samuel, Robert and Sensei Natasha.
Samuel pins Aruna.
Aruna pins Samuel.
Christopher and Robert bow in respect, as they watch each other carefully.
Christopher and Robert in posture, whilst observing correct and safe distance.
Aruna and Samuel always have fun and enjoy their classes!
Sensei Natasha teaching a technique. Notice the focus on a strong posture.
Samuel pins Aruna by controlling her elbow.
Sensei Natasha helping Aruna with her posture, in preparation for her first grading.
Christopher perform shihonage on Sensei Tony.
Christopher enjoys pinning Sensei Tony.
Robert perform ikkajo on Sensei Tony, while christopher analyzes the action.
Robert performs shihonage on Sensei Tony.
Arun Aikido Club Instructors Sensei's Robin, Tony, Natasha and Josephine - the Wilden's.
Arun Aikido Club Instructors bow to you in respect!
We hope you enjoyed our Aikido Graphics Gallery photographs. Continue your journey through the Arun Aikido Club gallery...