Aikido Photographs and
Arun Aikido Club Pictures!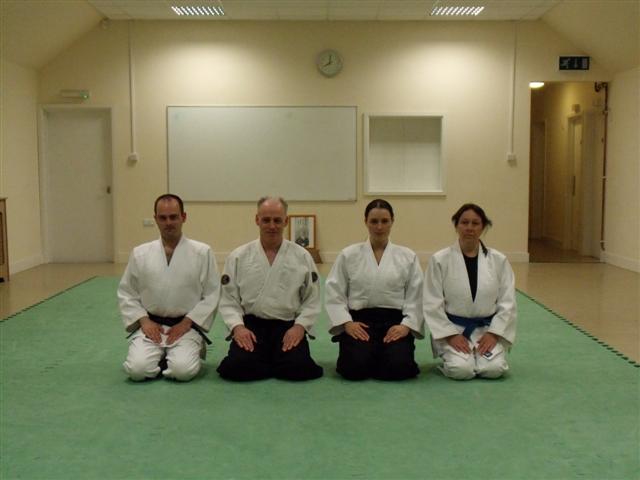 Thank you for visiting our Aikido Photographs Gallery with dozens of really interesting pictures from the Arun Aikido Club, in Bognor Regis, West Sussex UK.


This was taken soon after the Aikido 1st Dan black belt gradings of Ken Ryall and Julian Jessup.

At the Arun Aikido Club our policy was to prepare our students thoroughly before they are graded. This gave them a much better chance of success.
A demonstration we gave at a country fare, just outside Bognor Regis UK.

We could not get mats for this demo, but we didn't let that stop us, as we were used to hard training!
Taken during an Aikido seminar at the Arun Dojo. Either side of me are Robert Prince and Phil Buck.

We all had a great experience as we focused on Aikido Yoshinkan Basics and Aiki Principles.
Here I was explaining to my students that it is essential to take the balance away from your attacker.

In this example I was double weighting Robin using Ikkajo (ikkyo) before controlling him on the floor.
Here I am with my daughter Natasha, just after I presented her with a Shodan certificate.

This was on behalf of the NAKMAS organisation, who we were affiliated to at the time.
I had the opportunity of a one-to-one session with Ken Dehaan of the Aikido Circle.

We took it in turns to choose the techniques we would work on.

Ken is an excellent Instructor with tons of experience. He is great with adults and kids.
This was taken after a regular class at the Arun Aikido Club Dojo in Bognor Regis UK.

Assistant Instructor certificates were awarded to Ian Upstone and Dave Foxwell after many years of hard focused training.
In this grading Ian Upstone was awarded his Shodan 1st Dan black belt certificate.

As you can see our grading numbers were gradually dropping. It was always difficult to find new students... who were willing to train hard for a number of years.
This was our last major grading seminar at Arun Dojo. On the grading panel were Tony Wilden Sensei 4th Dan, Brian Prince Sensei 5th Dan and Stephen Marusca Sensei 4th Dan

Gavin 5th kyu, Robin 2nd Dan, Anthony 3rd Dan, Steve 1st Dan, Ian Instructor.
This is my daughter's son Samuel when he had his first class (nice socks!). Yes... I know I am a grandad.

There really was a family Dojo atmosphere at Arun Aikido Club :)
This was another come-and-try-it session we gave for the Arun District Council. It was a very busy session and my assistants were kept busy.

Featured are Samuel Wilden and Grandad Tony!
As you can see the class was popular and the kids really enjoyed themselves. They also learnt some valuable information about Aikido.

The chap talking to Robin in the background was apparently an ex 'Navy Seal' who gave us tips (we took them with a pinch of salt!)
Thank YOU for joining me on this journey down memory lane.

I hope it has inspired you in Your Aikido Journey...
Best Wishes - Tony
We hope YOU enjoyed looking at our Aikido Photographs Gallery. Check out more Arun Aikido Club pictures are here..
1 - 2 - 3 - 4 - 5 - 6 - 7 - 8 - 9
Aikido Photographs
Jin Us for Local Training
We hope you enjoyed viewing our Aikido photographs

You are welcome to join us in Bognor Regis West Sussex UK


Aikido Classes, Self Defence Seminars and Private Lessons
Want local training in Bognor Regis UK? Visit... Arun Aikido Club