Arun Aikido Club
General Rules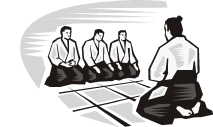 One of the most important aspects of Aikido is learning to discipline your behaviour and self control. These general rules are for Arun Aikido Club students.



MAKE SURE YOUR MEMBERSHIP, INSURANCE,
AND TRAINING FEES ARE PAID UP TO DATE.

RESPECT YOUR INSTRUCTORS AND FELLOW STUDENTS.

ALWAYS ARRIVE FOR YOUR LESSON AT
LEAST
10 MINUTES BEFORE TRAINING BEGINS.


ALWAYS BOW ON ENTERING AND
LEAVING A DOJO OR TRAINING AREA

.


REMOVE SHOES AND JEWELLERY BEFORE PRACTISE
KEEP GI CLEAN, FINGER AND TOE NAILS TRIMMED
.
IF YOU ARRIVE LATE AND TRAINING HAS
ALREADY STARTED, WAIT AT THE SIDE OF THE MAT,
UNTIL YOUR INSTRUCTOR INVITES YOU TO JOIN IN.
WHEN SPEAKING TO YOUR INSTRUCTOR YOU
SHOULD ALWAYS ADDRESS THEM AS SENSEI (TEACHER).
WHEN SITTING, ALWAYS SIT IN THE
TRADITIONAL
SEIZA (KNEELING) POSITION
UNLESS TOLD
OTHERWISE BY YOUR INSTRUCTOR.
DURING TRAINING, ANY STUDENT WISHING TO
LEAVE THE MAT OR PRACTISE SOMETHING OTHER
THAN THE TECHNIQUE DEMONSTRATED, MUST FIRST ASK.
TO BEGIN AND END EACH CLASS, THE HIGHEST RANKING
STUDENT WILL SAY MOKUSU (PERIOD OF CALM).
THEN THEY WILL SAY SHOMEN REI (BOW TO FRONT),
WHICH IS A SIGN OF RESPECT TO MORIHEI UESHIBA
WHO IS THE FOUNDER OF THE ART OF AIKIDO.
THEN THEY WILL SAY SENSEI REI (BOW TO INSTRUCTOR).
AT THE START OF TRAINING ALL STUDENTS
SAY ONEGAI SHIMASU (PLEASE TEACH ME).
AT THE END OF TRAINING ALL STUDENTS
SAY DOMO ARIGATO (THANK YOU).
Arun Aikido Club
Information - General Rules - Grading Syllabus
Picture History
1 2 3 4 5 6 7 8 9